Services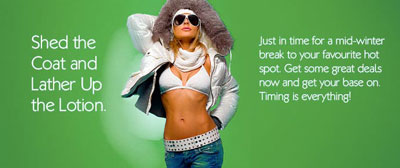 Tanning
Tanning
On the Dark Side Tanning Salons have been helping people
LOOK GOOD & FEEL GREAT
for over 30 years.  Have a special event coming up? Need to build a base tan for a sunny destination? Our Smart Tan Certified Staff is ready to help you identify your skin type to reach your tanning goal with 6 different types of units and superior products to get you results.  
We recommend that you allow a minimum of 24 to 48 hours between tans and require all tanners to wear approved protective eyewear.  If you are on any medications that may cause photosensitivity you must notify your doctor before tanning.  Many customers say that their doctor suggested they tan to help with their depression, Seasonal Affective Disorder (SAD), skin conditions or to increase their Vitamin D levels.   
While indoor tanning is a cosmetic service, an undeniable side effect of this service is that indoor tanning clients manufacture sufficient levels of
VITAMIN D
.  One single UV tanning session can create as much Vitamin D as 100 glasses of milk.  Vitamin D is called 'The Sunshine Vitamin' for a good reason: UV light makes Vitamin D naturally.   
TANNING PRICES PER MINUTE AND UNLIMITED
For the most current prices please call:
Mega Salon
13300 Tecumseh Road E.
(519) 739-3323
Express Salon
4756 Tecumseh Road E.
(519) 988-0255