Services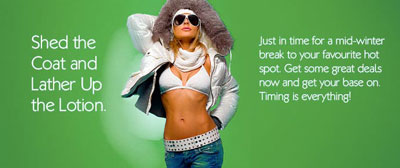 Sunless Tanning
UV-FREE MYSTIC HD SPRAY TAN ​

Try the latest in Mystic Tan Technology with different levels and customizing options to choose from to get the results that you need to LOOK GOOD & FEEL GREAT! You can add on an immediate bronzer to get instant color or a superior enhancer to help balance your skin for better results. This Mystic offers the most advanced technology for an even all over tan, advanced heater/dryer technology so that you stay warm and comfortable in a private room that is voice automated to guide you through the steps needed to get that golden bronze color you desire.

MYSTIC PRICES

Level 3: MEDIUM $29       Level 4: DARK $32

ADD ONS
HYPERTAN ENHANCER $5.99
SINGLE BOOST BRONZER $1.99
TRIPLE BOOST BRONZER $4.99
AROMA $.99

Mystic Tan revolutionized the world of tanning in 1998 when it introduced the world's first UV-Free spray tanning system. It is a private, self contained system that employsa patented revolutionary spray on process with MagneTan technology. This patented pro cess uses the human body's own magnetic properties to attract Mystic Tan Tanning Myst to every exposed surface of the skin. When the myst passes thought the patented spray nozzle, the micro-particles of the myst are polarized, taking on the characteristics of "tiny magnets". These particles adhere evenly, and in a precise uniform amount to the exposed skin to create a smooth, even, natural looking tan. The HD technology adds heat to your tanning experience for maximum absorption for a deeper, longer lasting tan and the drying accelerates the DHA development and improves the application process. It also has a superior exhaust fan and filter system that immediately removes excess spray particles and continuously replenishes fresh air. It is voice automated guiding customers through each step of the tanning process.

Results are not guaranteed and may vary due to skin prep, application of barrier cream, individual skin imperfections and after-care.

Prior to Mystic we recommend shaving, exfoliating & cleaning skin of lotion, make-up,etc.

After Mystic do not get wet for at least 6 hours. The Mystic does not provide a base tan or any protection from the sun.

NO REFUNDS/NO EXCHANGES. ALL SERVICES ARE AT YOUR OWN RISK.